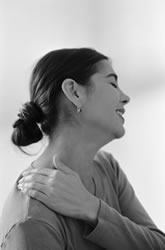 Almost everyone has had an ache in their necks at some point in their lives, but between 10-21% of Americans suffer from neck pain on an ongoing basis. While the cause of your neck pain may stem from an obvious injury or traumatic event, many patients suffer from an insidious (gradual onset) of neck pain.
Although pain medications can offer temporary relief, diagnosing the source of your neck pain is tantamount for preventing chronic symptoms. As spinal specialists, chiropractors are extensively trained in diagnosing and treating neck pain. Noblesville chiropractor Dr. Dahlager can work with you to properly identify the source of your neck pain, and create a customized treatment plan for lasting results.
How Can Chiropractors Help Neck Pain?
The primary treatments used by chiropractors to alleviate neck pain are chiropractic adjustments to the cervical spine, also called neck adjustments or cervical spinal manipulation. During your initial examination, Dr. Dahlager will evaluate your spine and surrounding tissues to identify subluxations, or spinal misalignments, contributing to your neck pain. He will then use a variety of chiropractic adjustments to apply precise, controlled pressure to the affected spinal segments to gently move them back into alignment. These adjustments are supported by soft tissue work, massage, and gentle stretching.
What makes Dr. Dahlager unique compared to other Noblesville chiropractors is that he combines these chiropractic adjustments with other proven treatments for spinal pain such as exercise rehabilitation, patient education, orthotics, and nutritional counseling.
Research on Chiropractic for Neck Pain
Studies show that chiropractic care is effective for neck pain relief. A 2011 study showed that combining chiropractic with exercise therapies resulted in greater improvements than taking pain medications alone. In a 2013 study, 94% of patients with neck pain who received a combination of thoracic and cervical spinal adjustments had significant global improvements in symptoms. Another study from 2014 showed that 60% of older adults over the age of 65 years experienced substantial neck pain relief following chiropractic adjustments. These older adults experienced no adverse events, leading researchers to conclude chiropractic neck adjustments are safe and effective for elderly patients. If you're looking for lasting relief of neck pain without surgery or drugs, Dr. Dahlager can help. Contact Noblesville Family Chiropractic for effective neck pain relief in Noblesville, IN today.