Noblesville, Indiana's 8 Best Treatments For Back Pain by Dr. Brad Dahlager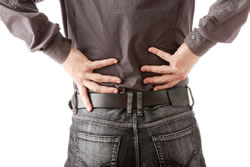 Back pain afflicts nearly 85% of the population and ranks 2nd among reasons why patients visit doctors. America's annual direct cost for treating back pain exceeds $200 billion. Yet, too often, and despite a wealth of studies to the contrary, back pain treatment is expensive, ineffective and even injurious. A 2011 study published in Spine reveals that back surgery fails 74% of the time and, in many cases, backfires, crippling patients with more pain. Medication prescribed for back pain often fails to relieve pain and damages organs like the stomach, liver, kidneys and the heart. What should you do about back pain, Noblesville? According to the current research, here are the eight best ways for you to treat back pain:
1.) The AMA Recommended Treatment: In a 2013 landmark effort to educate the public about treating back pain the Journal of the American Medical Association (JAMA) instructed that patients should try chiropractic before resorting to surgery. Enumerating the causes and symptoms of low-back pain, the doctors who authored this article explain that the back is comprised of bones, nerves, muscles, ligaments and tendons. Back pain can be a result of problems with any of these structures. Since chiropractors are neuro-musculoskeltal experts, they are usually the best qualified
healthcare providers to manage and treat back pain.
2.) The Drugless Treatment: Another 2013 study, published in the journal Spine , adds to the growing body of evidence that attests to the superiority of the chiropractic adjustment over popping pain-killers. Chiropractic patients fared significantly better than patients on medication, experienced quicker functional improvement, enjoyed better restoration of physical abilities and returned to work faster. Chiropractic is far safer than drugs and much more effective.
3.) The Non-Surgical Treatment: Another 2013 Spine study concludes that seeing a chiropractor can help patients prevent surgery. According to this study, patients who visited a medical doctor first for low back pain were 28 times more likely to have surgery when compared to patients who saw a chiropractor first for a low back problem. Nearly 43% of medical patients had surgery compared to just 1.5% of all chiropractic patients. Want to avoid surgery? See a chiropractor first.
4.) The Cost-Effective Treatment: A 2012 study comparing chiropractic to medical care found that chiropractic patients spend much less on health care versus medical patients. Compared to medical patients, chiropractic patients spent $424 less per year for spine problems and $796 less per year on total health costs.

5.) The Safe Treatment: Like many studies before it, another 2013 Spine study found that chiropractic is not only effective, it's extremely safe. Compared to common interventions for back pain like drugs and surgery, chiropractic has an unparalleled and enviable safety record.

6.) The Ageless Treatment: Two separate 2013 studies proclaim chiropractic's superior effectiveness in treating back pain in both teens and the elderly. Whether you're young or old, chiropractic is the treatment of choice.

7.) The Preventative Treatment: A 2011 study compared chiropractic to traditional medical treatment for back pain and found that chiropractic patients suffered less than half as many days of disability and celebrated less than half as much recurrence of back pain as medical patients.
8.) The Most Effective Treatment: Numerous studies praise the preeminence of chiropractic for treating back pain. A 2013 study lauds chiropractic as superior to epidural steroid injections noting that, compared to injection patients, chiropractic patients felt better, had more pain relief and spent less for their care. A 2011 study found that chiropractic adjustments, compared to treatments like medication, massage and physical therapy, produced the strongest clinical benefits with the least amount of side effects for athletes hindered by back pain. These, like many other studies, repeatedly crown chiropractic the undisputed champion in the treatment of back pain.
Dr. Brad Dahlager of Noblesville Family Chiropractic offers time-honored, traditional chiropractic care which can fundamentally alter the course of painful back conditions for the residents of Noblesville, Fishers, Westfield, Carmel and the rest of Hamilton County.
Dr. Dahlager uses chiropractic adjustments, nutritional counseling and exercise therapy to correct painful back problems and restore function for his patients in Noblesville. He'll work with you and your existing healthcare providers to provide a non-invasive, effective management of your back condition.
How much longer will you allow back pain to dictate how you live your life? Schedule your appointment with Dr. Dahlager at Noblesville Family Chiropractic today.
Dr. Brad Dahlager is a nationally recognized chiropractic physician in practice at Noblesville Family Chiropractic (www.noblesvillefamilychiropractic.com). You can contact him at 317-214-7218 or at drdahlagerdc@hotmail.com.
References:
1. American Chiropractic Association. JAMA suggests chiropractic for low back pain. Businesswire May 8, 2013. businesswire.com.
2. Goodman D, Burke A, Livingston E. Low back pain. JAMA Patient Page April 24, 2013; 309(16): 1738. doi:10.1001/jama.2013.3046.
3. von Heymann, et al. Spinal high-velocity low amplitude manipulation in acute nonspecific low back pain: a double-blinded randomized controlled trial in comparision with diclofenac and placebo. Spine 2013; 38 (7): 540-48. doi: 10.1097/BRS.0b013e318275d09c.
4. Keeney BJ, et al. Early predictors of lumbar spine surgery after occupational back injury: results from a prospective study of works in Washington state. Spine 2012; doi: 10.1097/BRS.0b013e3182814ed5.
5. Martins B, et al. The association of complementary and alternative medicine use and health care expenditures for back and neck problems. Medical Care 2012; 50 (12): 1029-1036. doi: 10.1097/MLR.0b013e318269e0b2.
6. Cifuentes M, Willetts J, Wasiak R. Health maintenance care in work-related low back pain and its association with disability recurrence. Journal of Occupational and Environmental Medicine 2011; 53(4): 396-404.
7. Walker BF, et al. Outcomes of Usual Chiropractic; Harm (OUCH). A randomised controlled trial. Spine 2013; DOI: 10.1097/BRS.0b013e31829fefe4.
8. Learman K, Showalter C, O'Halloran B, Cook C. Thrust and nonthrust manipulation for older adults with low back pain: an evaluation of pain and disability. Journal of Manipulative and Physiological Therapeutics 2013; 36(5): 284-291, doi: 10.1016/j.jmpt.2013.05.007.
9. Calvo-Muñoz et al. Physical therapy treatments for low back pain in children and adolescents: a meta-analysis. BMC Musculoskeletal Disorders 2013; 14 (55):1-11.
10. Peterson, CK, et al. Symptomatic Magnetic Resonance Imaging-confirmed lumbar disk herniation patients: a comparative effectiveness prospective observational study of 2 age- and sex-matched cohorts treated with either high-velocity, low-amplitude spinal manipulative therapy or imaging-guided lumbar nerve root injections. Journal of Manipulative and Physiological Therapeutics 2013; doi: 10.1016/j.jmpt.2013.04.005.y
11. Petering R and Webb C. Treatment options for low back pain in athletes. Sports Health 2011; 3(6): 550–555.