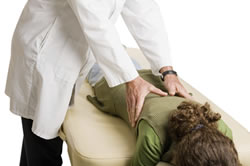 While there are actually dozens of natural treatments your chiropractor uses to restore and stimulate health and wellness in your body, they fall in four different categories.
Here's a listing of those three methods:
1. Manipulations of the spine by your chiropractor, a.k.a chiropractic adjustments:
When a chiropractor manipulates your joints and instructs you how to feed your body, you have the best chance to achieve health quickly. The adjustment restores the proper connections between the central nervous system and your organs and tissues. Without these connections, you could go on for months without healing.
2. Corrective exercises that improve strength in weak muscles, posture and stability:
No one has a perfect body. Muscle imbalances are common. Overworking muscles strains them, predisposing you to injury. Your chiropractor is a health expert capable of finding these muscle imbalances – and then deciding what to do to create balance once again.
3. Nutrition recommendations to stop inflammation:
Inflammation is not good for the body past the beginning stages of healing. With diet recommendations, you get ways to accelerate your healing. Your Noblesville chiropractor, Dr. Dahlager, will also share exciting new advancements with you on this topic.
Chiropractic treatments are safe, relieve pain, and involve no needles or prescription drugs. At your next appointment, find out from your chiropractor what your complete treatment will involve to insure your healing.
Many patients in the Noblesville area have found relief through these chiropractic treatments delivered by Dr. Dahlager. He'll help you get better now and give you tips on preventing the pain resurfacing in the future. So stop needlessly suffering and contact Noblesville Family Chiropractic for an appointment today!