Dr. Brad Dahlager is a Noblesville chiropractor providing the efficient diagnosis and effective treatment of back pain for patients in Noblesville, Fishers, Westfield, Carmel and the rest of Hamilton County. Identifying the root cause of your back pain is tantamount to discovering lasting relief.
What Causes Back Pain?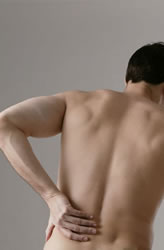 ​Back pain is not a diagnosis in and of itself but it can be a sign of any number of significant problems involving the spine, joints, discs, ligaments, and soft-tissues of the back. Here are some of the most common causes of back pain that we typically see and help in our Noblesville, IN office:
Tissue Injury
If the tendons and ligaments of your back are stretched, torn, or damaged, your body will respond by releasing inflammatory chemicals causing swelling and pain. Spinal tissues may be damaged by traumatic events like car accidents, falls, bending, heavy lifting, or twisting. Tissue damage may also develop gradually as a result of poor posture, standing or sitting all day or operating a vibrating vehicle at work.
Degenerative Disc Disease
Misalignments of the spine (subluxations) over time result in inappropriate vertical compressive loads being placed through the spine and into the cushions between the vertebra (the spinal discs) which leads to the tearing, drying out and collapsing of the spinal discs. This can make you susceptible to any number of disorders causing back pain including:
Disc herniation: Ruptured or bulging discs can impinge the surrounding spinal nerves.
Osteoarthritis: Break down of the discs and the spinal joints leads to deposition of bone in the ligaments along the spine called bone spurs. Bone spurs can further irritate and impinge the spinal nerves.
Spinal stenosis: This facet of degeneration causes narrowing of the spinal canal which can then impinge the spinal cord and nerves.
Nerve Impingement
These headaches are the most common primary headaches experienced. A number of factors can cause chronic tension headaches including poor posture, muscle spasms, allergies, and stress.
Acquired Conditions
A number of chronic health problems can result in significant back pain; some examples of these problems include fibromyalgia, rheumatoid arthritis, osteoarthritis, scoliosis, and multiple sclerosis.
After conducting a thorough examination, Dr. Dahlager will carefully explain the cause(s) of your back pain. He'll then construct an individualized treatment plan which could include chiropractic adjustments, rehabilitative exercises, custom foot orthotics, patient education and nutritional counseling. Learn more about back pain treatment here. How much longer will you allow your back pain to dictate how you live your life? For accurate diagnosis and effective relief of your back pain, call Dr. Dahlager at Noblesville Family Chiropractic today.
Call our clinic at (317) 214-7218 for a check-up today
Or click here to request an appointment online

We provide chiropractic care to patients in Noblesville, IN; Westfield, IN; Fishers, IN; Carmel, IN; Arcadia, IN; Atlanta, IN; Cicero, IN; Sheridan, IN and surrounding areas in Hamilton County.